InTouch VP: the GPS Solution that won't drain your batteries
Self-powered, Wireless GPS Solution
Completely battery-powered

No installation required

Wireless GPS monitoring

Rugged, magnetic HD case

Handy and lightweight design

Featuring 4 power modes for increased flexibility

Swift and seamless activation process

First-rate lithium battery

Up to 4 years of battery life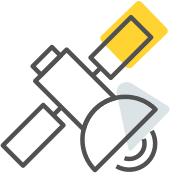 Pinpoint GPS Tracking
Ultra-low Power Consumption
Tamper Detection System

Motion Sensing Technology
Innovative GPS Technology Tailored to Powersport Vehicle Protection
Designed for powersport owners and dealers, PassTime's reliable powersport GPS solutions offer the ability to safely manage, track and protect any number of vehicles.
PassTime is a very professional company that has been able to keep pace with our growing demand for their reliable products and services. - Tiffany, AB
GPS Solutions Built For Powersport Owners and Dealers
PassTime provides GPS solutions and systems that are quick and easy to install, with real time data that's highly beneficial for powersport vehicle owners and dealers. Our GPS tracking devices can be applied to ATVs, motorcycles, snowmobiles, jet skis, and other vehicles to offer a number of advantages:
Compact and portable designs

Quick and easy installation

Long battery life

Pinpoint GPS tracking

Best-in-class 4G LTE/5G compatible technology

Fast vehicle recovery assist
The Leading Choice for Powersport GPS Technology
Based in Littleton, Colorado, PassTime has been providing award-winning solutions with GPS for ATVs, snowmobiles, and other motorsport equipment for over 25 years. We help more than 10,000 automotive businesses all over the world secure their assets and optimize their bottom line.
Featured Powersports Industry Content
Need help finding the right PassTime GPS Solution?