Select GPS is Designed For:
Transform your operations with comprehensive and customizable vehicle tracking solutions that include multiple geofences, unlimited locates, and GPS starter disable.
Locate and track vehicles 24/7/365

Improve customer communication

Decrease defaults and delinquencies

Finance more cars with confidence
Reduce defaults and increase on-time payments with advanced GPS starter interrupt devices.
Pinpoint GPS and GeoFencing 

Proactive payment reminders to improve collections

Web-based interface for collateral management and customer communication
Select GPS Tracker with Starter Disable Capability
Our feature-rich GPS tracking solution for comprehensive, customized management of both assets and profits.
Proactive text / email alerts and payment reminders
Get text or email alerts when a vehicle is disabled or crosses a geofence. Send payment reminders to the device when your customer's payment is due.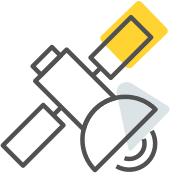 Pinpoint GPS and Geofence technology
Quickly discover your vehicle's exact location and create geofences around your points of interest.
Tow and tamper detection
Be notified of potential towing, interference, and unauthorized vehicle use.
Scalable and upgradable at any time
Select GPS can easily be upgraded for access to PassTime's other advanced features.
GPS with Car Disable Device Technology
In the event your customer defaults and a repossession may be necessary, Select's vehicle disable feature makes vehicle recovery easier than ever.
Looking For a GPS Solution with Industry-Leading Business Intelligence?

Upgrade to Elite:
Enhanced vehicle intelligence featuring automated collection technology
Need help finding the right PassTime GPS Solution?